General Information, 26-27 March, Geneva

Conference Venue
COHRED Colloquium 2013 will take place at the CICG.
17 rue de Varembé
CH – 1211 Genève 20
T +41 22 791 91 11
F +41 22 791 90 64
The International Conference Centre of Geneva (ICCG) is conveniently located near the International Airport and major highways, the railway station, the international organizations, Lake Geneva and the historic old town. A vast choice of hotels offers your guests and associates first-rate hospitality just a stone's throw from the conference centre. For hotel accommodation, please refer below. CICG Access map: http://www.cicg.ch/content/pdf/cicg_plan_acces.pdf
Colloquium Secretariat

Colloquium 2013 Secretariat
COHRED Connect
1-5 Rte des Morillons
B.P 2100
1200 Geneva, Switzerland
For information on programme and speakers please contact Danny Edwards: edwards@cohred.org
For information on logistics please contact Laurence Verhagen: laurence@cohred.org
Registration
Pre-registration to this event is mandatory. Although no fees are applicable, the Colloquium 3 Secretariat needs to have a confirmation of your attendance for administrative and logistical purposes.
Should you decide to cancel your participation, please inform the secretariat as soon as possible by sending an e-mail to laurence@cohred.org.
Registration includes:
Access to the Colloquium sessions,
Coffee breaks and lunches on Tuesday 26 and Wednesday 27 March (provided at the conference centre),
Colloquium COHRED evening on Tuesday 26th March (only if you have pre-registered to the event via the on-line registration form),
Colloquium printed material and registration kit.
Online registration for COHRED Colloquium 2013 has now closed, but you are most welcome to register on site in Geneva. On-site registration is open at the venue – The International Conference Centre of Geneva from the 26th of May 2013.
Hotel Accommodation
COHRED has negotiated a limited number of hotel rooms at the NH Rex Hotel at a discounted rate of CHF 185.00 including breakfast. This rate is valid until February 23, 2013.
A first-come first-served process will be applied. After this deadline there will be no guarantee of rate or of room availability.
Should you wish to benefit from this special offer, please fill in the form and send it directly to c.sauvajon@nh-hotels.com.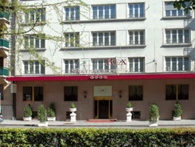 NH Rex
Av. Wendt 42-44
CH-1203 Genève
Reservations, tél. direct: +41 22/544 74 90; Fax : +41 22 544 74 99
Email: c.sauvajon@nh-hotels.com
The NH Rex hotel in Geneva is located in a peaceful, quaint neighbourhood near the conference venue, and combines the charm of 19th century France with sophisticated, modern conveniences. Guests will find a luxurious setting for renewal and rejuvenation in our stylishly-appointed rooms and suites, each featuring WiFi, international TV channels, individually adjustable climate control, and many more amenities. After a restorative slumber, guests can revive their senses and indulge their appetites by enjoying breakfast on the terrace overlooking the NH Rex hotel's tranquil gardens. The convenient location of the NH Rex in Geneva provides easy access to cultural landmarks such as the UN Building and other international organisations as well as the scenic Lac Leman. Refresh with a coffee or a bite to eat at one of many neighbourhood cafes, or hop on the tram a block away from the NH Rex and visit the old city center, Lake Geneva, Place de Bourg-de-Four, Neuve and Carouge.
Other hotels: Additional information on hotels in Geneva may be found on www.geneve -tourisme.ch/en/accommodation. Please note that COHRED does not provide accommodation services.
Transportation
Transportation from the Airport to the Hotel: Bus N10 – stop "Charmille" or take the train for Geneva main station Cornavin and take Bus No 14 – stop "Servette".
Please note that at the baggage claim hall at the Airport you can retrieve a 1hour free transportation ticket that is valid for train and bus journeys.
Transportation to the Conference Center: the NH Rex hotel is located at about 15mns walking distance from the CICG conference center. A bus N11 is also available – stop "UIT".  Please ask for your local transportation map at the reception desk of the hotel.

Transportation to Colloquium Dinner: a private bus tranfer will be organised. The bus will depart from the CICG at 18:15 on Tuesday 26 March. The return transfer will be organised around 21:30 and delegates will be dropped either at the CICG or in front of the NH Rex Hotel."
Colloquium 2013 Dinner 

Colloquium 2013 will take the opportunity to celebrate COHRED's 20th Anniversary during the Colloquium Dinner on Tuesday 26 March at the Chateau de Bossey from (6:30pm to 9:00pm).
Bus transfers will be organised between the conference centre and the dinner venue.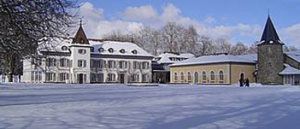 Château de Bossey
Chemin Chenevière 2
Bogis-Bossey
Switzerland
Property of the Ecumenical Institute of the World Council of Churches (WCC), the Château de Bossey is a quiet estate some 20 kms from Geneva. This unique venue has been renovated to host conferences and special events.
Visas, insurance and liabilities 
Participants must take responsibility for ensuring they have the appropriate visa in place, according to the passport they hold, before travelling to Geneva. If you require an invitation letter which fulfils specific requirements to obtain your visa, please get in touch with the Colloquium secretariat.
COHRED shall not be responsible for and shall be exempt from all liability in respect of any loss, damage, injury, accident, delay or inconvenience to any person, or his /her luggage or any other property for any reason whatsoever, for any tourist services provided. Personal travel and health insurance is recommended.