Coordination
What is the action guide about?
The coordination action guide suggests steps for synchronising and integrating activities across national systems to optimise research for health. It takes users through a process of identifying coordination needs, creating coordination structures, and assigning coordination functions.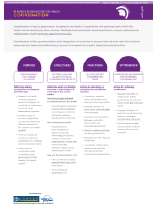 Click here to download the action guide
Your feedback is important to us
These guides are in constant evolution, reflecting user feedback and up-to-date practices in the addressed areas. We invite you to comment on the coordination guide here. Your feedback will assist us in refining the guide to optimise its use and impact.