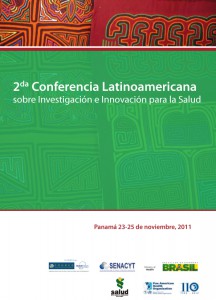 A report summarising the outcomes of the Conference '2nd Latin American Conference on Research and Innovation for Health' (held in 2011 in Panama City, Panama) has been published.
In line with the thematic focus of the conference, the report highlights the key messages from the conference on the following: (a) mechanisms linking innovation to health policy, (b) mechanisms for funding innovation and research, and (c) international cooperation as a means to strengthen innovation and research.
The Conference was a collaboration between the Council on Health Research for Development (COHRED) Group, the National Secretariat for Science, Technology and Innovation of Panama (SENACYT), the Ministries for Health from Panama and Brazil, the Gorgas Memorial Institute in Panama and the Pan American Health Organisation of the World Health Organisation (PAHO/WHO).
The report highlights the views of about 100 participants, with various backgrounds ranging from ministers of health, researchers, scientists, representatives of international agencies, civil society organisations, business to regional economic communities. The report conveys the general conditions existing in countries within the region and the actions that are required in order to sustain innovation and research for health. For instance, the training of young researchers is a recommendation that is highlighted as having the potential to generate stimuli for innovation and for research for health in the region.
Mrs. Marta Linares de Martinelli, First Lady of the Republic of Panama, who opened the Conference, is quoted in the report saying that: "research and innovation are key resources for ensuring better performance of local health systems and for consolidating a united continent around a common goal of offering access to better health for marginalised groups and those that are most vulnerable".
Click here to download the Executive Summary to the report (English version)
Click here to download the report (Spanish and Portuguese versions) and to access our webpage on the conference
For more information, contact: Becerra@cohred.org