Country Partners
R4HA is built upon a partnership between COHRED, NEPAD and participating country institutions to increase the synergy between political support, technical expertise and national ownership.  To participate the country institutions already have a mandate to govern research, science and technology or health research in their countries.
Country partners that joined R4HA have demonstrated an interest in developing national research governance and management systems.  They have dedicated staff and resources to ensure the success of R4HA and research system development in their countries.
NEPAD brings regional political expertise to the partnership, helping to build inter-country cooperation through links to Regional Economic Communities and other relevant African bodies.
COHRED draws on its expertise in research system building including priority setting; policy development, governance structures for research and web-based platforms for knowledge sharing and collaboration (HRWeb, Research Ethics Web)  both in Africa and elsewhere to provide the technical support and facilitation needed to achieve the optimum impact of research investment on health and development.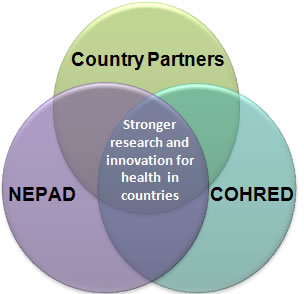 The R4HA initiative partners with three African countries, with a view to expanding to other countries in the region and strengthening research capacity across the entire region.  The initial three country partners include: