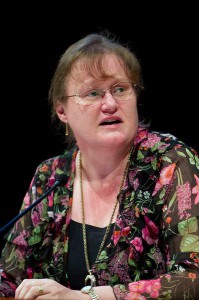 Glaudina Loots is Director of Health Innovation at the South African Department of Science and Technology. She concentrates on enabling research and innovation that leads to discovery and evaluation of new drug and treatment regimes, the development of new vaccines and new robust diagnostics for the identified diseases or conditions, as well as the development of medical devices.
The ENHR priority setting
The first time the Department of Health (DoH) in South Africa got involved with COHRED was at the end of 1994, when COHRED assisted us with the first Essential National Health Research (ENHR) priority setting for South Africa, which started with establishing a first ENHR committee. So we've been involved with COHRED since its very beginning! ENHR priority setting with the South African DoH was one of the first COHRED's first projects, partly because a lot of South Africans were involved with COHRED at that time.  
Before that collaboration with COHRED, there were no national priorities for health research set, and no structured process to do so. The medical research councils were just taking decisions depending on what their staff wanted to study, so there was no consolidated approach to understanding where we were and what needed to happen in the country in terms of health research. We knew then that we should be prioritising HIV and TB, as well as some non communicable diseases. Not much has changed since then, the priorities are still the same. In 2006, we had a follow up to the original priority setting exercise, and two years ago we had the health research summit, which built on the initial work that COHRED assisted us with.  
There are a number of things that resulted from that first ENHR priority setting exercise. The committee involved in conducting the exercise was made up of researchers who wanted to make a contribution to changing the priority given to health research globally. One of these researchers contributed to the WHO guidelines on mother to child transmission of HIV. Another contributed to the international standards for TB research. It is clear that research being conducted in South Africa was making a strong contribution to the global evidence base.
Building on that, this set the scene for focusing on those priorities that we need to work on, not only for our health system research, but also the innovation component. Basically, we used that initial priority setting exercise to create a whole health innovation unit at the Department of Science and Technology. Initially, it was more about our health systems research and how to interact with the actual service delivery, while now it is also focused on integrating innovation, looking at new solutions and technologies that are applicable to Africa for better health service delivery. It goes now much further than before, when we uniquely looked at the service component; this shift took place about 8 years ago. The priority setting exercise also then led into a foresighting exercise, where we looked at the research priorities for the next 20 years, of which health was one component. So, that ENHR priority setting exercise, along with this foresighting exercise made a powerful case for the contributions that science and technology can make to the innovation component of health research.
The Forum 2012
The collaboration between COHRED and the South African government was on hold for a while, until I met with Carel (the Director of COHRED), who I knew from previous involvements, and we looked at how we could utilize the knowledge that had been generated in COHRED and how we could start applying it, not only in South Africa but in Africa as well. We had been speaking about how to look at research for development and how to implement that.
This is how we got involved on one hand with the pharmaceutical innovation in Africa process – where we have been consulted on how we can assist other African countries to go through the whole process as we had – and, on the other hand, the Forum 2012.
Before that, South Africa already had a close relationship with the Global Forum for Health Research. We participated actively in all the Global Forums for the last 10 years, partly because we are an emerging economy and we have a relatively strong research system.  Given this involvement, we decided to host the 2012 Global Forum in Cape Town – an event I was very much a part of. Instead of having something with more than 4000 people, we considered organizing a more selective event with the aim of looking in a more concrete way what we need to do in order to make some changes.
This conference had outcomes on the discussions about research funding mostly, and the networking aspect as well. Of course, we had been having those discussions before so it was part of a continuum. Some of the conversations I have currently with Carel are sort of flowing from that: as a middle income country, how can you do research, on what, and how do you interact with your big donors, other organizations and so on?
Hosting this event with COHRED has been a positive experience and this collaboration has been very useful to us. Indeed, when you are country to country, you tend to have politics coming into the story. COHRED gives more neutral input into the system, as a mediator. Especially in the case of South Africa, because of its position as the strongest economy on the continent, we have to be very careful not to be seen as trying to tell other people what to do. So we needed an organization such as COHRED to provide a more neutral Forum where we can talk about these things, instead of it being presented only as a South African initiative. It was in that sense much better for us to be part of a COHRED initiative instead, in terms of image and visibility, as this sort of neutralizes the playing field. The whole African agenda is something we all need to work on but it would not work if it is seen as driven by South Africa. We can be a player among others, but we should not be seen as the driver, so in this case it was COHRED. This is why we need organizations like COHRED to work with us.