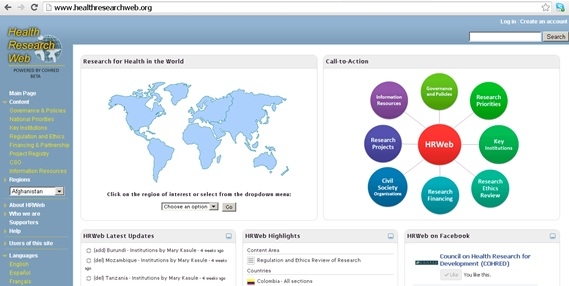 The problem:
Most countries acknowledge the importance of research, and its resulting new knowledge, as a key contributor to strengthening health systems and improving the health of their populations. However, often the research studies conducted in-country are not known by the relevant decision makers, research efforts are not coordinated, research is not aligned to national needs, and often largely supported through external financial resources. Knowledge about the organisations, priorities, policies, financial resources and research products and outcomes are key to optimise the impact of research on health. Currently research managers, at national or institutional level, often lack access to information that can help them manage research for health better.
The solution:
In response to this identified need, COHRED developed Health Research Web (www.healthresearchweb.org).
It is a platform which can be customised to function at national or institutional level as a web-based research for health management information system. It aims to provide quick and reliable 'real-time' data, tables and graphs which can be used to monitor and evaluate research investments in an institution or country. Users can showcase their research outputs and capacities, and it provides an easy channel to disseminate research policies, priorities and requests.
Users of the platform are increasing – both at regional and country level. In the Americas, the Pan-American Health Organization created Health Research Web – Americas. This is a customised version of the platform, displaying research information of relevance to the region as well as individual countries, a blackboard to post messages, a link to EVIP-Net, as well as to over a 1000 research ethics committees active in Latin America.
In Africa, both Senegal and Tanzania decided to use Health Research Web, and work with the Health Research Web team on customising the platform to operate through the website of the Council on Science and Technology (COSTECH) in Tanzania, and the website of the directorate of research of the Ministry of Health in Senegal. COSTECH is using the platform to issue its public calls for research proposals. The platform will allow COSTECH to monitor which studies have been supported, how these respond to national research priorities, the public resources allocated to the research, and the resulting research outputs. In Senegal, very similar information will become available as more and more research institutions familiarise themselves with the platform.
Information is key for any management, including management of research for health. Health Research Web is an information management tool available for any person, institution or country interested in improving their research for health management system and capacity.
COSTECH (Tanzanian Commission of Science and Technology) research projects per field of science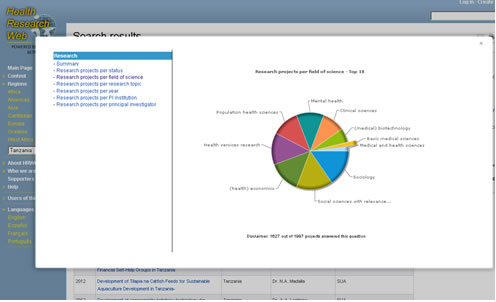 Research Ethics Committees registered in HRWeb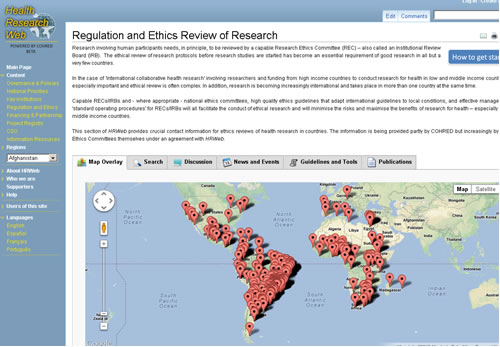 Health Research Web embedded in the website of the directorate of research of the Ministry of Health in Senegal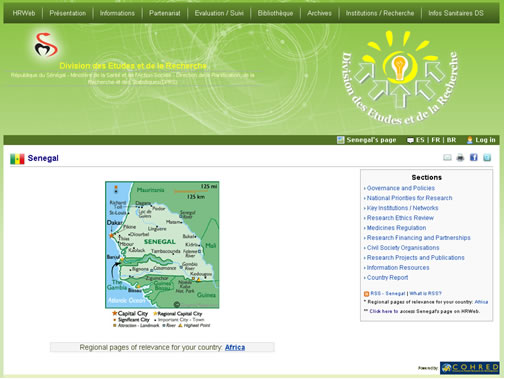 Health Research Web embedded in the website of the Council on Science and Technology (COSTECH) in Tanzania