A collaboration, which started in 2010, between the Council on Health Research for Development (COHRED) and the INDEPTH Secretariat has led to the set-up of an online platform that will enable the Secretariat to better understand and leverage the capacity of the research institutions that are part of the network. The platform will also help to facilitate the flow of information among the INDEPTH centres.
The platform can be viewed at http://www.indepth-network.org/hrweb. It acts as a public space through which researchers can provide each other with technical and strategic support for health research and ultimately promote socio-economic development, health, science and technology in the South.
INDEPTH aims to support national efforts that are aimed at defining health priorities and policies on the basis of long-term analysis and evidence. INDEPTH's data and research guides the cost-effective use of tools, interventions and systems to ensure and monitor progress towards national goals. The Network has 42 members (health and demographic surveillance sites (HDSSs)) in 19 different countries, 29 of which are located in Africa, 12 members in Asia and 1 in Oceania (see map below).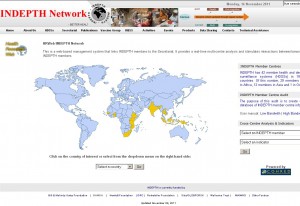 Drawing on COHRED's HRWeb information technology, the INDEPTH Network platform operates as a cloud-based management information system. This means that the INDEPTH Secretariat now has an online system that links INDEPTH member centers to the Secretariat, and it also enables real-time, cross-centre analysis. The platform allows the members to upload their information directly onto the platform thereby allowing the INDEPTH Network secretariat to collect, analyse and graphically display relevant information about its member centers.
What has happened here is actually that we adapted the HRWeb – which is a global platform – to the needs of individual research institutions and networks. INDEPTH is a key first partner with whom we are working to get this right, but more are coming, The largest project now is the research information system for Tanzania's COSTECH (Council on Science & Technology).
Governments, research ethics committees, research institutions and networks and secretariats can now use HRWeb as their own management information system – an easy channel through which they can organise and disseminate research policies, priorities and requests.
Many low-income countries rely heavily on external research funding, but they often do not have an overview of what happens in their own countries. This adaptation of HRWeb enables this – it puts countries and their research institutions 'in the driver's seat'. Information is key to management, and the new HRWeb provides this. That is why we call it 'HRWeb 3.0'. It is a cloud-based application open to all agencies involved with the governance and management of research for health.
Go and explore it on www.healthresearchweb.org
Carel.