Fair Research Contracting
Best Practice Tools on Global Health Research Contracting
The FRC supports international health research at 3 levels:
where no legal support exists
where there is limited legal resources
where there is legal capacity
The Fair Research Contracting Initiative can provide:
Guidance tools (freely available)
Workshops ('How to build effective research partnerships')
A 1/2 day (introductory) or
A 3 day (intensive) workshop
Technical consultancy
Legal advice to research managers on specialized areas such as intellectual property and data sharing/ownership, and overhead cost recovery.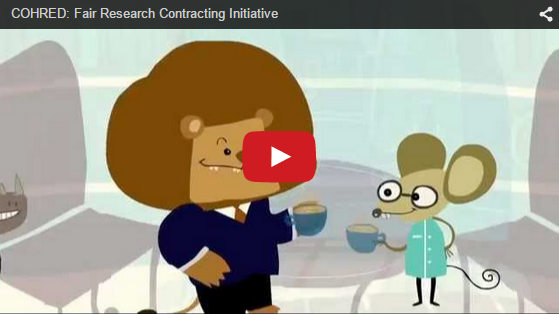 Benefits of Fair Research Contracting
Increase global competitiveness through
Intellectual property rights
Capacity building efforts
Ownership/sharing of data
Compensation for overhead costs
Research contracting context
Build institutional reputation and research capacity to
Collaborations with both sides of the partnership having skilled contractors
Facilitation of more efficient contracting arrangements
Decreased complications during and after research
Better contracts for improved intra-mural management of research
Enhance access to more resources to fund institution infrastructure such as buildings, research equipment, scholarships, staff, and more
The Research Fairness Initiative is designed to work hand-in-hand with Fair Research Contracting (FRC).
While, the RFI underscores the accountability of the stakeholders, it also increases the legitimacy and fairness of research collaboration along the standards set by Fair Research Contracting.
HOW TO CONTACT US AT COHRED:
For further information, visit our website on www.cohred.org/FRC or contact us on Email: frc@cohred.org
Jacintha Toohey | Project Lead: Fair Research Contracting Initiative Phone: +27 (0) 33 260 5770 | E-mail: toohey@cohred.org
Nivedhna Singh | Business Manager : Phone: +27(0)33 260 6165 | E-mail: nivedhna@cohred.org