Fair Research Contracting
Guidance for fairer research contracts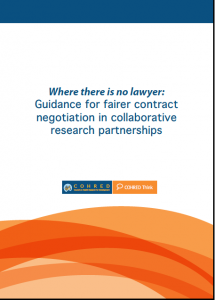 Better contract negotiation expertise in LMIC institutions will help improve the distribution of benefits of collaborative research, such as overhead costs, data ownership, institutional capacity in research management, technology transfer, and intellectual property rights. With this in mind, COHRED has developed a guidance booklet aimed at optimising research institution building through better contracts and contracting in research partnerships. The guidance highlights the key issues for consideration when entering into formalised research partnerships, and provides tools and resources for negotiating fairer research contracts.
To download this guidance booklet, click here:
Fair Research Contracting Guidance Booklet e-version
To ensure that the fair research contracting guidance is relevant to the circumstances and needs of those engaging in research partnerships, we invite your feedback on how the document can be adapted and improved. Please submit your comments here.
Draft contracting guides
Based on the fair research contracting guidance booklet, we have started to develop brief contracting guides that are aimed at assisting institutions to think through various aspects of contracts related to each of the key issues we have addressed as a challenge in research contracting.
On this page, you will find draft contracting guides on the following aspects of research partnerships:
These guides have been structured in the form of broad questions to consider when thinking about what terms and conditions to include in research contracts. They are currently in draft (beta) format. We are publishing them here for comment to help ensure that the final guides that we produce are adapted to user needs. We invite you to comment on any or all of these brief guides. Your feedback on the relevance and utility of these types of guides would be most valuable.
Please provide your feedback relating to these guides to Danny Edwards at edwards@cohred.org.  He will also be able to answer any questions you have regarding the FRC initiative more broadly.
What is the fair research contracting initiative about?
COHRED's fair research contracting initiative aims to identify best practices for the research contracting (negotiation) process. that would be useful in the following three scenarios, in situations i) where there is no lawyer, ii) where there may be lay personnel who could be trained, and iii) where there is a lawyer or legal expertise.
This initiative seeks to clarify the problems experienced in research relationships between high income and low- and middle-income institutions and, in particular, to focus on those issues that can be effectively addressed by developing and implementing guidance on research contracting in which the rights, responsibilities and requirements of all partners are recognised and addressed in an equitable and transparent manner.

The growing volume of research in low- and middle-income countries (LMICs) is welcome, but brings with it a number of new challenges for research institutions and government departments dealing with research in those countries. The necessity for LMIC institutions to have access to the legal resources and capacities to negotiate fair partnerships with their funding partners has become more important than ever.
With the often multi-centre and multinational nature of such research, key issues in the allocation of resources, capacity and post-study benefits arise. These include:
Distribution of research benefits
Ownership of data, samples and publications
Sharing of intellectual property rights
Capacity building and technology transfer
Adequate compensation for indirect costs
Conflict resolution
Compensation for insufficient national legislation
Benefits of fairer research contracts
All stakeholder groups will benefit from more equitable research contracts.
Institutions will share a greater proportion of the benefits that result from their work, enabling them to build a more effective research base;
Low- and middle-income institutions have the potential to become the primary recipient in securing research grants. The issue is then how to empower and capacitate them as the main contractor to negotiate fair sub-contracts with their high income partners;
Countries will benefit from research that strengthens rather than weakens national systems;
Research sponsors will benefit from the stronger research capacity available in countries in which they operate; and
Society in general will benefit from more rapid access to new evidence based services and interventions that have the potential to avert morbidity and mortality.
Project achievements: 2006 – 2013
The fair research contracting work began in 2006, when the International Centre for Diarrhoeal Disease Research, Bangladesh (ICDDR,B) brought the issue of contracting practice to the attention of the WHO's Advisory Committee on Health Research, by highlighting the difficulties they faced in negotiating 'equitable' contracts with research sponsors. COHRED was asked to lead an International Collaboration on Equitable Research Contracts to examine this issue in more detail and plan a collective response. The first phase of this response was finalised in May 2009 with the publication of an editorial in the Bulletin of the WHO raising awareness on the issue.
Given that negotiating equitable research partnerships remains a central issue for LMICs, COHRED committed to restarting this project in 2011. A think tank was convened in March 2011 to identify key challenges in the research contracting process.  At a fair research contracting workshop held in Cape Town during Forum 2012, the previously identified issues were reviewed and preliminary work was done to begin to identify solutions. In October 2012, COHRED held a meeting on fair research contracting at the Rockefeller Foundation's Bellagio Center. The Bellagio meeting focused on the structure and content of contracting checklists and negotiation guidance to support LMIC institutions and governments. You can download the report to the meeting by clicking here.
The fair research contracting guidance document highlighted above is the culmination of this work.
For more information
There are ways through which you can support the work of COHRED within this programme. For more information, click here or contact Danny Edwards, on email: edwards@cohred.org.