Civil Society Engagement
What is the action guide about?
The civil society engagement guides focus on two different audiences. The CSO guide for governments outlines strategies for governments to optimise involvement of CSOs in setting national research for health agendas. The CSO guide for CSOs aims to equip CSOs with practical assistance in engaging more directly with governments in order to influence research for health priorities and agendas.
Click here to download the action guide 'Civil Society Engagement: for Governments'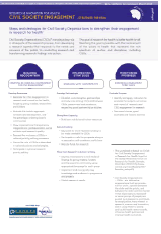 Click here to download the action guide 'Civil Society Engagement: for CSOs'
Related country work
Civil Society Engagement – http://www.cohred.org/civil-society-engagement/
Relevant publications
Community influences on health research agendas record paper – http://www.cohred.org/publications/cohred-publications/record-papers/record-paper-3-can-communities-influence-national-health-research-agendas/
Your feedback is important to us
These guides are in constant evolution, reflecting user feedback and up-to-date practices in the addressed areas. We invite you to comment on the civil society engagement guides here. Your feedback will assist us in refining the guide to optimise its use and impact. You can email us at: cohred@cohred.org